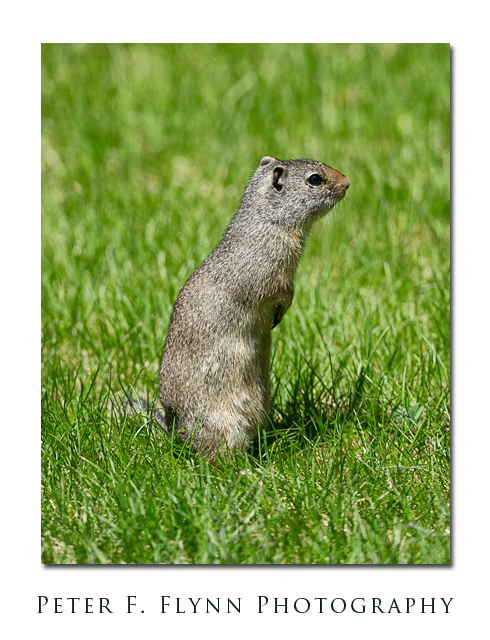 I gotta admit it, these small critters are among my favorite animals.  Energetic and irrepressibly precocious, they are fascinating to observe.  The Uinta Ground Squirrel,  Spermophilus armatus, is ubiquitous throughout both Yellowstone and Grand Teton National Parka and adjoining areas.  In fact these ground dwelling squirrels may be seen throughout the Mountain West from central Utah northward.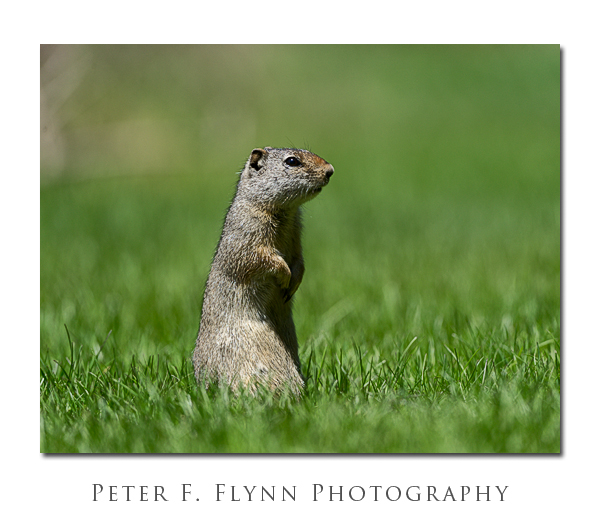 The subject of the images in this entry is a member of a small colony of animals that inhabit the ornamental bushes that are part of the landscape around Jackson Lake Lodge in Grand Teton National Park.  It wasn't clear whether this little fellow was just curious or whether this was a practiced antic designed to get a free meal, but at any rate the show was most entertaining.
Images in this entry were recorded at 13:30 MDT on June 3, 2011, using the Nikon D3s and the AF-S VR Zoom-NIKKOR 200-400mm f/4G IF-ED lens at 400mm.  Exposure was f/5.6 and 1/1250s, ISO at 640.  Hand held.  I made these images from the fully prone position – I like the perspective, channeling Moose Peterson a bit.  If I had it to do over again, I might have shot at f/6.3 or f/7.1 to loosen the DOF isolation a bit.
For additional information on the Uinta Ground Squirrel, interested readers are directed to the following websites:
Smithsonian Museum:  http://www.mnh.si.edu/mna/image_info.cfm?species_id=356
Utah DNR:  http://dwrcdc.nr.utah.gov/rsgis2/Search/Display.asp?FlNm=sperarma
Wikipedia Page:  http://en.wikipedia.org/wiki/Uinta_ground_squirrel
Copyright 2011 Peter F. Flynn. No usage permitted without prior written consent. All rights reserved.
Tags: Grand Teton National Park, GTNP, Jackson Lake Lodge, Spermophilus armatus, Uinta Ground Squirrel